Children's Corrective Surgery Society
PO Box 500578
San Diego, CA 92150-0578
Phone: 800-803-9190
Mission
Children with facial disfigurements like cleft lip and cleft palates are often ridiculed, tormented and even abandoned by their parents. Our free surgeries offer children with birth defects hope and the chance at normal, fulfilling lives.
Real Life Story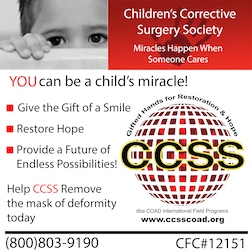 Because Everyone Has The Right To Look Human.
In a remote Mexican Village there was a little girl named Martha that everyone called, "Cochina". To most people it has a pleasant sound, but in Spanish it means, "Little Pig Girl";. She was ostracized by her village and not allowed in school. Her family contacted CCSS/COAD . It took the combined efforts of family and neighbors to "capture" her so that we could show her some pictures of other children we had helped. Struggling and writhing on the ground, she suddenly comprehended what the pictures meant. She stopped struggling and her deformed face burst into a broad smile. A sparkle of hope came into her eyes and as far as she was concerned the operation was already done.
A quarter sponsorship is just $63, a half sponsorship is $125, and $250 to sponsor one operation.
Whatever your gift may be, it is an answer to a prayer for both child and parent. It is a gift of transformation that lasts a lifetime. Remember, there are many "Cochinas" waiting to become "Marthas."
Martha is now happily married and has a healthy son.